Having finally gotten the
structure
operational, I am free to move on to the fun cosmetic aspects of my folding game table project.
Having previously tested this medium on my
tree
stands
, I used sawdust instead of sand to texture the gaming surface. Though the finish is a little more rough, it weighs considerably less, and, more importantly, is porous. This allows glue to permeate the material itself and bond better than sand. [side by side sawdust and sand basing image]
Sawdust is also free if you ask at a hardware store that cuts lumber on site, provided you bring a container.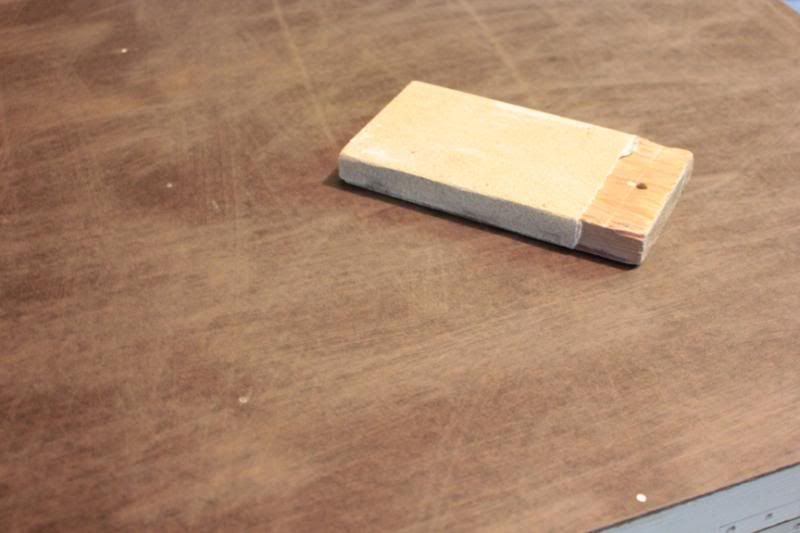 Taking a cue from Flames of War basing, I roughed up the glossy surface of the pressboard using large grit sandpaper so the adhesive would have a better surface to hold onto, then I painted white glue onto the surface and shook out the can onto the board.
While I had agonized over the potential purchase of one of those large jugs of glue available at most hardware stores, the high price of the large bottle led me to a more incremental approach. I tried one small bottle at a time, since I already had a few on hand. It turned out the be the right decision, taking about 3 1/2 bottle to cover the whole surface (costing the same number in dollars).
With the loose sawdust in place, I pressed it into the glued surface using large cardboard tube as an ad-hoc humongous rolling pin, and swept the loose debris off with a small broom after the glue had dried.